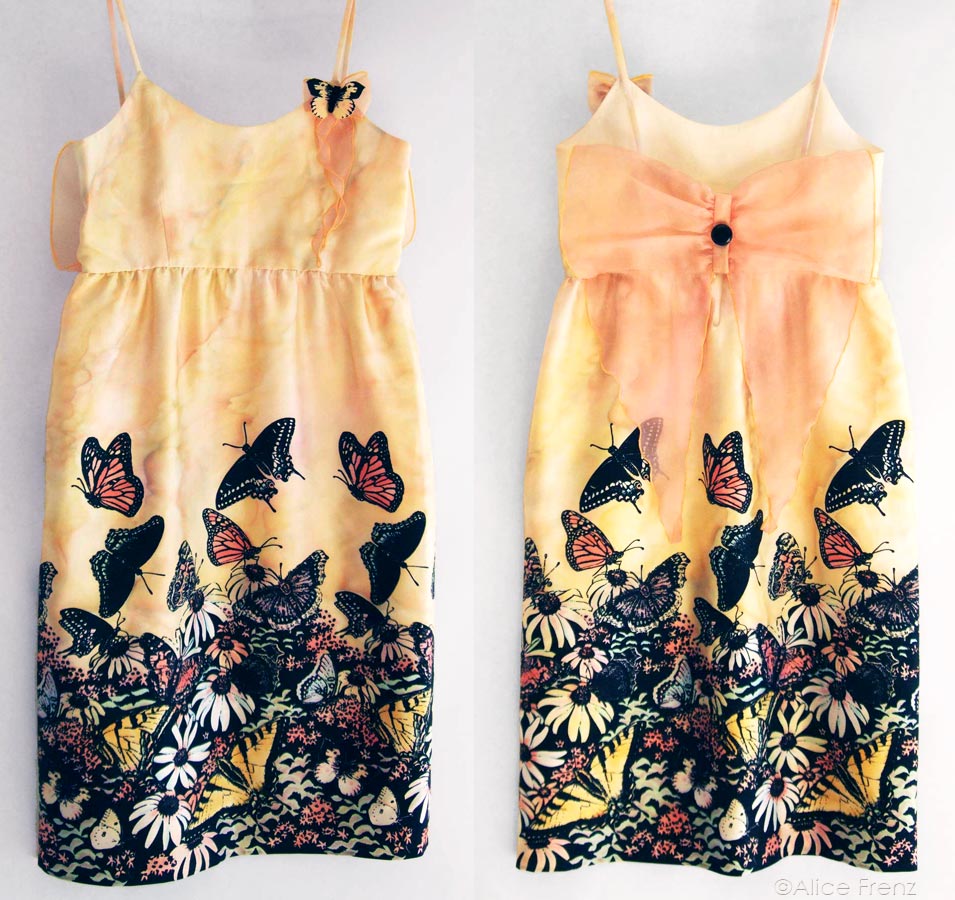 Swallowtails in the Sun –  3 color silk screen printed on silk & painted with fabric dyes. First I planned my design out on paper, then inked my artwork for the black areas on drafting mylar (a frosted plastic surface similar to art vellum paper). For the 2 colors to be silk-screened, I did the artwork on layers of amberlith by cutting and peeling away the amber layer and adding details with ink.

Next my silkscreens were treated with photo emulsion and exposed on a light table with my artwork placed between the screen and the light. This caused the photo emulsion to harden where the light passed through the artwork and remain soft and soluble where the light didn't pass through. Then I washed out the unhardened areas which became the areas where my fabric ink and thickened fabric dye would pass through the screens to make the prints.

After doing a test print, I stretched my fabric on a long padded table and placed brackets at precise intervals to align the screen frames so that the repeats in the design would align when printing. When printing continuous yardage by hand, you avoid smudging by printing every other space. By the time you get to the end of the fabric, the first prints have dried enough that you can go back and print the skipped spaces to fill in the complete design for a seamless alignment.

After allowing the printed yardage to cure, then washing and drying it, I then stretched it on wooden frames to paint it with fabric dye to add subtle changes of color and enhance areas of color. The silk screen printing was done with black pigment ink, magenta fiber reactive dye, and blue fiber reactive dye. I painted with yellow, orange, and ecru fiber reactive dyes. Through testing on a sample I found that the ecru would fracture into subtle ripples of pale orange and blue, which worked out nicely I think in the finished work.